High-Quality Outdoor Shed Structures
Your Local Iowa City, Iowa Shed Builder
Are you tired of looking for an affordable shed, while still getting a shed that is superior in quality? We aren't your big business, high production shed builder. Instead, we are an owner-operated small business located on the old family farm. While some people might be surprised to hear a farmer turned shed builder, we continue to build our reputation in the Iowa area as one of the premier, shed builders. Check out our about us page to learn about who the guys are behind our high-quality sheds.
Like we said earlier, we are a small company that is focused on building high-quality sheds that will last for years to come! We do, however, build more than sheds. We also build Garages, Animal Shelters, Small Cabins, and Outdoor Playhouses, and we look forward to helping you get the best possible shed that will work for you.
Enjoy the opportunity to work with a shed builder that has your best interest in mind.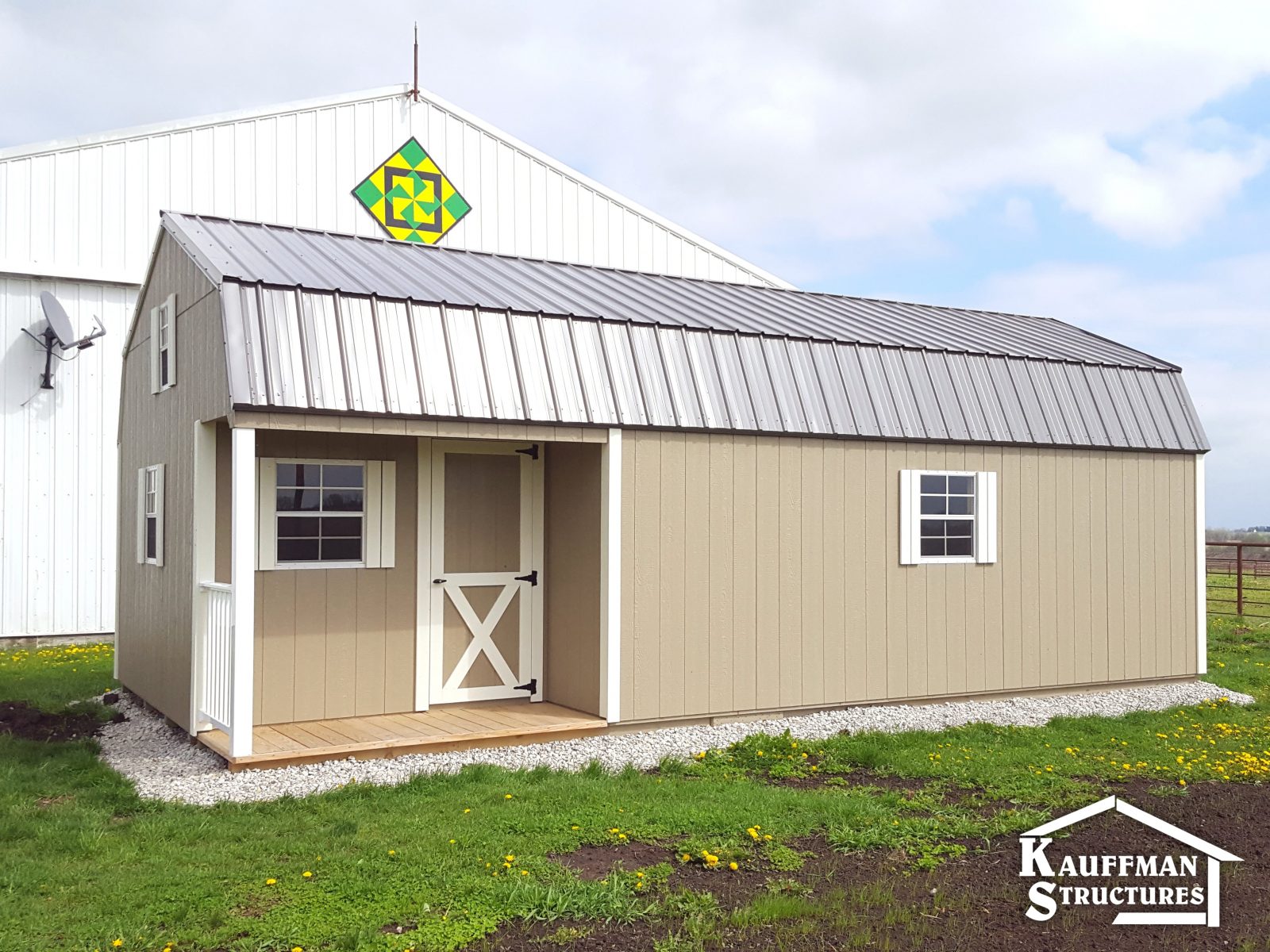 Storage Sheds
We offer a couple of different storage sheds. Starting with the workhorse Gable Utility Shed that offers you storage space at a reasonable price, all the way to the Cottage Storage Shed. Our premium storage shed model here at Kauffman Structures puts more focus on the design features while maintaining the superior quality Kauffman Structures is known for.
Portable Garage
Our quality built, portable garage was built and designed to store mid-sized vehicles, motorcycles, lawn and garden equipment, ATVs, and more. The portable garage provides a flexible and highly affordable alternative to building a permanent structure on your property. Save yourself money, purchase a Portable Garage that makes sense for you now and in the future.
Iowa City Sheds Gallery
Rent to Own Sheds in Iowa City
With a storage shed from Kauffman Structures, you can have your own storage facility placed conveniently in your Iowa City backyard and own it after 36 monthly rental payments, (not available for cabins). Why rent to own sheds unit miles away when you could have your outdoor shed right in your own yard? In addition, the storage shed becomes entirely yours upon completing the payments.
Do We Deliver Sheds?
Q: Will Kauffman Structures deliver the shed to me in Iowa City, Iowa?
A: Yes, we deliver our sheds all over the state of Iowa and into northern Missouri.
How can I get my own Iowa City shed?

1. PRIORITIZE
Identify what you'd like your shed to do for you.
What do you want to store?
How do you want to access it?
What kind of "look" do you want?
Think carefully about your objectives before you purchase your building.
2. PURCHASE
Review your options and make your choice.
To choose your shed, consider which size and style will best fit your needs, as well as how each style will fit into your location.
When you're ready to order, first choose your colors, then any add-on options.
Send us a security deposit to place your order. You can choose either a cash sale, or a convenient rent to own contract.

3. PREPARE
Get ready to land a beautiful backyard.
We recommend a gravel base to set the shed on. If this is not a good option for you, we are happy to offer you some more ideas and options.
Look for any low hanging wires or tree branches that will be in the way of getting the shed to the desired location.
We encourage you to do any necessary tree trimming prior to delivery of your structure.
Directions From Iowa City, Iowa:
We are located in Weldon, Iowa, just a short trip and a shorter phone call from Iowa City, Iowa.
Hours:
Mon – Fri: 9am – 5pm
Saturday: By Appt.
Sunday: Closed
Head West on I-80 toward Des Moines for about 100 miles
Keep right to stay on I-80 W & I-35 S for 14 miles
Keep left at the fork to continue on to I-35 S
Continue on Interstate 35 past Bevington, St Charles, New Virginia, and Osceola
Get off of Interstate 35 at Van Wert and head east on Co Rd J14
Turn Right at US-69 and head south for 1 mile
Turn Left at Co Rd J22 and drive east for about 2 miles
Kauffman Structures is located on the left at 25186 Popcorn Rd