Loafing and Storage Sheds in St Joseph MO
Sheds for Sale in St Joseph, MO
Are you looking for loafing or storage sheds in St Joseph, Missouri, but don't know where to get one? Go no farther, order your Kauffman's structure today and we can deliver it anywhere in St Joseph, MO area.
As a family owned and operated business, our goal here at Kauffman Structures is to provide you with the perfect building to fit your needs, at a reasonable price, and designed exactly like you want it. Besides building storage sheds we also offer countless other types of structures including garages, playhouses and livestock sheds. If you have a specific building you are imagining, contact us today to see how we can make your dream come true.
When you choose Kauffman Structures, you will quickly realize how much fun it can be to design your own building, from the first call to the delivery of your dream. And we build and sell our own sheds, so you can rest assured that you will be getting the best product possible.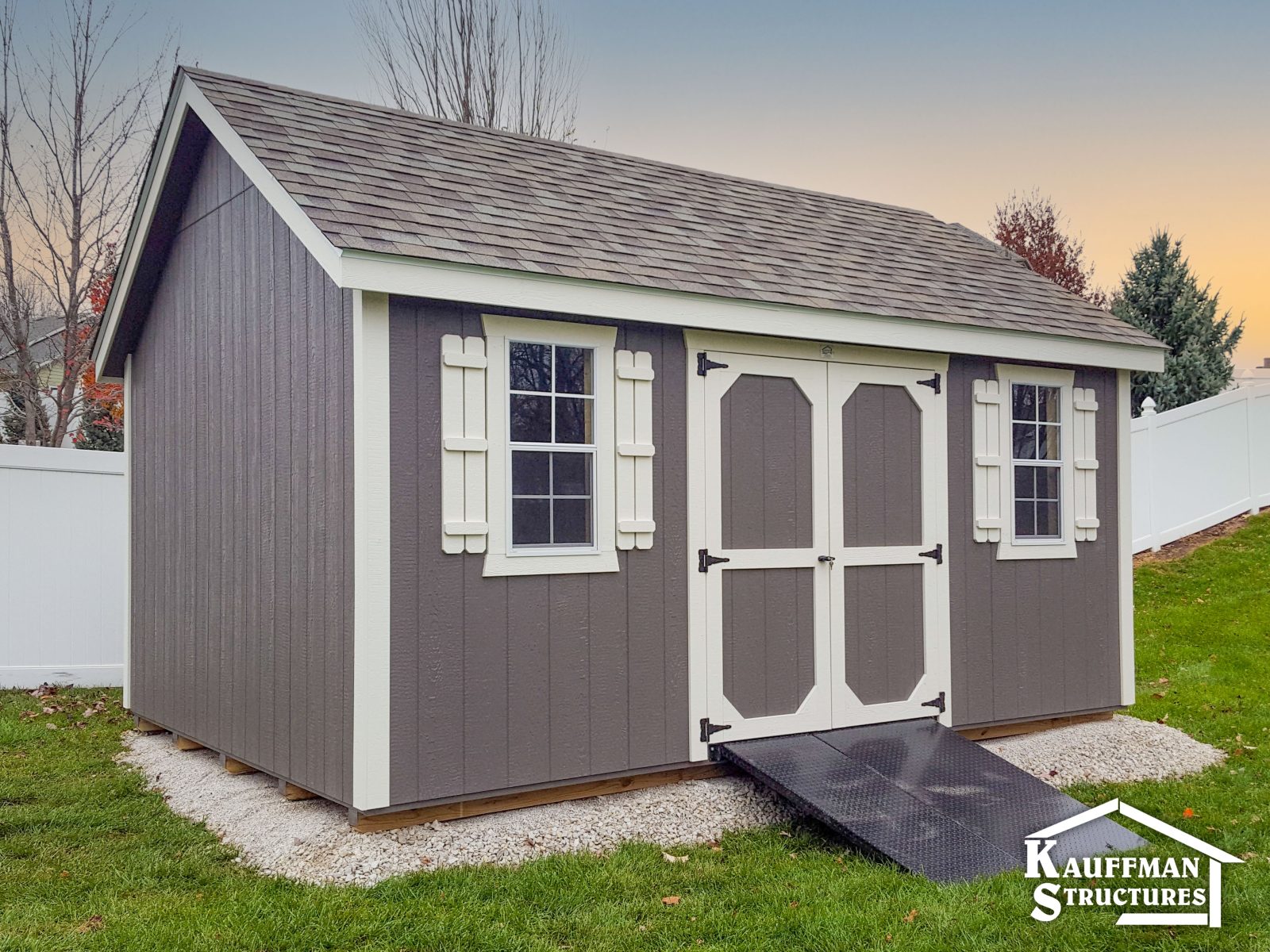 Storage Sheds In St Joseph, Missouri
Wondering how you are going to fit that new mower into your garage? Or maybe just getting your car back into the garage is the goal. A new high-quality storage shed is the perfect solution. Not only does it provide you with the much needed storage space but it adds value to your property, giving your backyard that extra little pop it needs. Whether big or small, we have the shed you want. And don't let the term 'storage shed' fool you. There are countless other innovative uses for these buildings. Whether it's that Man Cave you've always wanted or a playhouse for your children. A shed is a great place to get started.
Loafing Sheds in St Joseph, Missouri
A loafing shed is exactly what it sounds like. It is a place for your livestock or large animal pet to go to chill, while being protected from the sun, wind and rain. Not all of us have the luxury of a fancy barn but these loafing sheds are the ideal alternative. Our three sided run-in shelters are designed specifically with your livestock in mind. Allowing you the peace of mind, knowing your animal friends are well protected and cared for. There are many benefits too a high-quality run-in shed. Check out all of our loafing sheds and the rest of our livestock buildings and get a free quote today.
Kauffman Structures Testimonials
I cannot express how happy we are with our Kauffman shed. Was easy to work with Curtis and the delivery could not have went any smoother. We spend a lot of time in it….it is not just a storage shed to us. My grandkids play in it and the oldest has a small shop area for his hobbies. The craftsmanship and detail make it well worth the money.

-TJ S.
We bought our storage shed about 9 years ago and love it and have used for a lot of different uses over the years. We have since moved and plan on having our Kauffman Storage Shed moved to our new location. With it being such a sound and reliable structure I can NOT leave it behind! The 10ft. by 20ft. storage space has been wonderful to use and I plan to keep using the same shed. Thank you for building such a sound structure for us! When I need another shed I will be ordering from here again!

-Michael
Rent-to-Own Shed Options
With a storage shed from Kauffman Structures, you can have your own storage facility placed conveniently in your in St. Joseph, MO backyard and own it after only 36 monthly rental payments, (not available for cabins). Why rent a storage unit miles away from your home, when you can have your own quality shed in your backyard? And the best part, after making your payments, it becomes entirely yours.
Do We Deliver to St Joseph , Missouri?
Yes, Kauffman Structures will deliver sheds in St. Josephs, MO. In fact, we deliver to all of Northern Missouri, Iowa and Eastern Nebraska. Once your site is prepared, you can sit back and relax as we place your shed exactly where you want it. With our years of experience and custom-built equipment, your building will be placed exactly where you want it. For more information visit our delivery page or contact us. at our office.
---
How Can I Get My Own Shed in St Joseph, Missouri?

1. PRIORITIZE
Identify what you'd like your shed to do for you.
What do you want to store?
How do you want to access it?
What kind of "look" do you want?
Think carefully about your objectives before you purchase your building.
2. PURCHASE
Review your options and make your choice.
To choose your shed, consider which size and style will best fit your needs, as well as how each style will fit into your location.
When you're ready to order, first choose your colors, then any add-on options.
Send us a security deposit to place your order. You can choose either a cash sale, or a convenient rent to own contract.

3. PREPARE
Get ready to land a beautiful backyard.
We recommend a gravel base to set the shed on. If this is not a good option for you, we are happy to offer you some more ideas and options.
Look for any low hanging wires or tree branches that will be in the way of getting the shed to the desired location.
We encourage you to do any necessary tree trimming prior to delivery of your structure.
Directions From St Joseph, Missouri to our Shop in Weldon, Iowa
We are located in Weldon, Iowa. Below are directions for getting to our location.
Hours:
Mon – Fri: 9am – 5pm
Saturday: By Appt.
Sunday: Closed
Head east on US-36 from N 12th St and S 9th St
Merge onto I-35 N toward Bethany
Follow I-35 N to E Line St in Decatur County.
Take exit 22 from I-35 N
Drive to Co Rd J22 in Decatur County