High-Quality Storage Sheds in Ottumwa, Iowa
Sheds for Sale in Ottumwa, IA
We offer a variety of storage sheds in Ottumwa, Iowa to meet your storage needs. Do you need extra space to store your things such as your lawnmower, weed wacker, or other outdoor equipment? Our storage sheds in Ottumwa Iowa are built to meet your storage needs, whatever they may be. Properly storing your items can make a big difference in extending the life of your equipment, and keeping your other belongings in good care. Having a storage shed can make life a little easier when trying to declutter your home or if you are just doing a little spring cleaning. As you may know, storing items is not the only thing you can use storage sheds for. Storage sheds can be used for a variety of other creative uses including an art room, gym room, mancave, she shed, and more! Opportunities are endless when it comes to determining what you can use a shed for. Even better, did you know you can design your own shed? This way, you can ensure you are getting the right shed that matches your exact needs. Get started on designing your own storage shed today!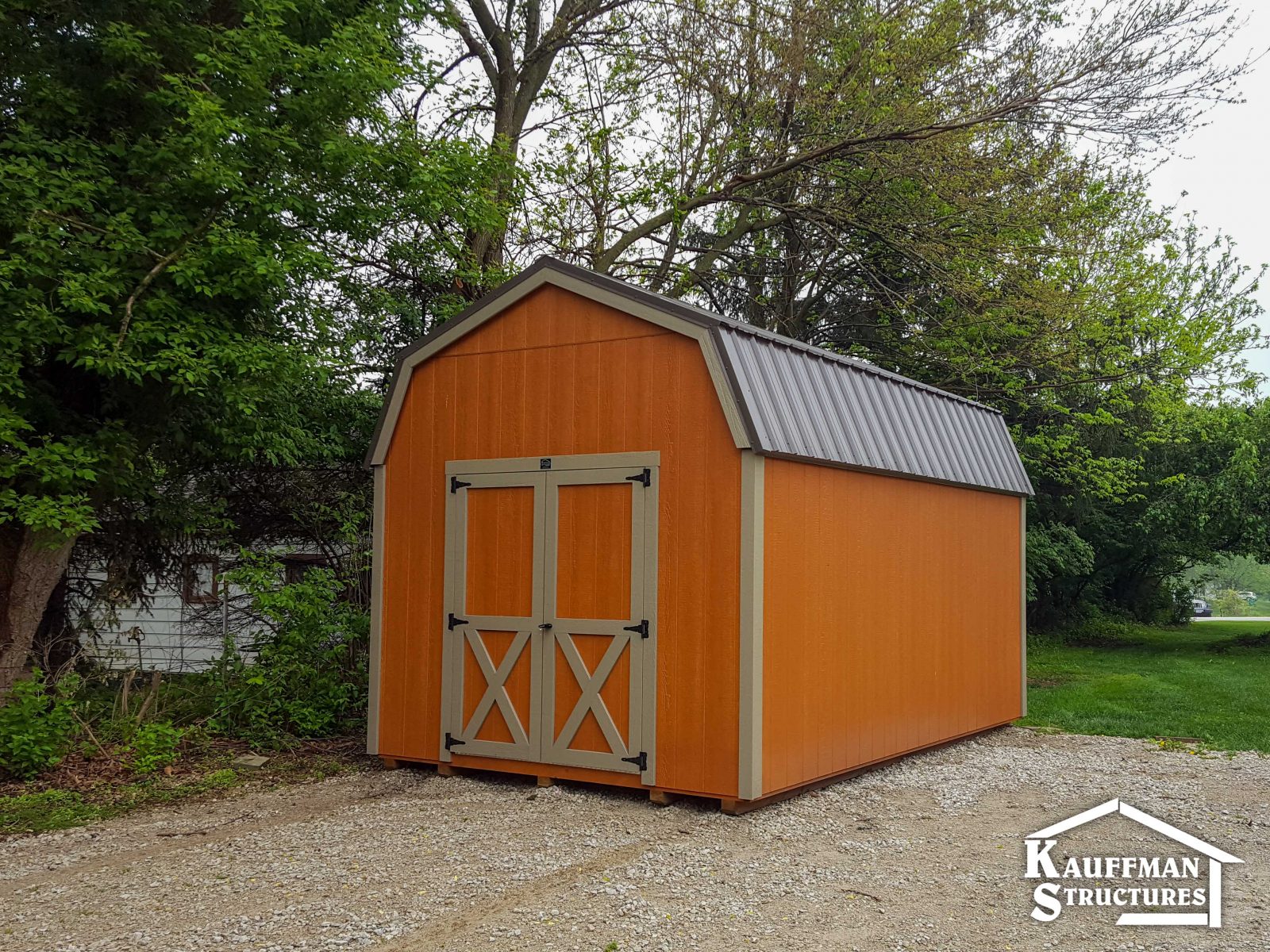 Storage Sheds In Ottumwa Iowa
Our high-quality storage sheds can make a huge difference in providing you with the extra storage space you need to store your things. Storage sheds are great storage units especially for outdoor equipment, which can help you keep your house from being overcluttered. Even better, our storage sheds for sale can be custom designed to meet your storage needs and design taste. Our storage sheds come in a variety of models including the utility shed model, the high barn shed model, and more! Did I also mention that having a storage shed on your property can actually increase your property value? Just another way storage sheds can help you get a return on your investment. Get started today on viewing our storage sheds today!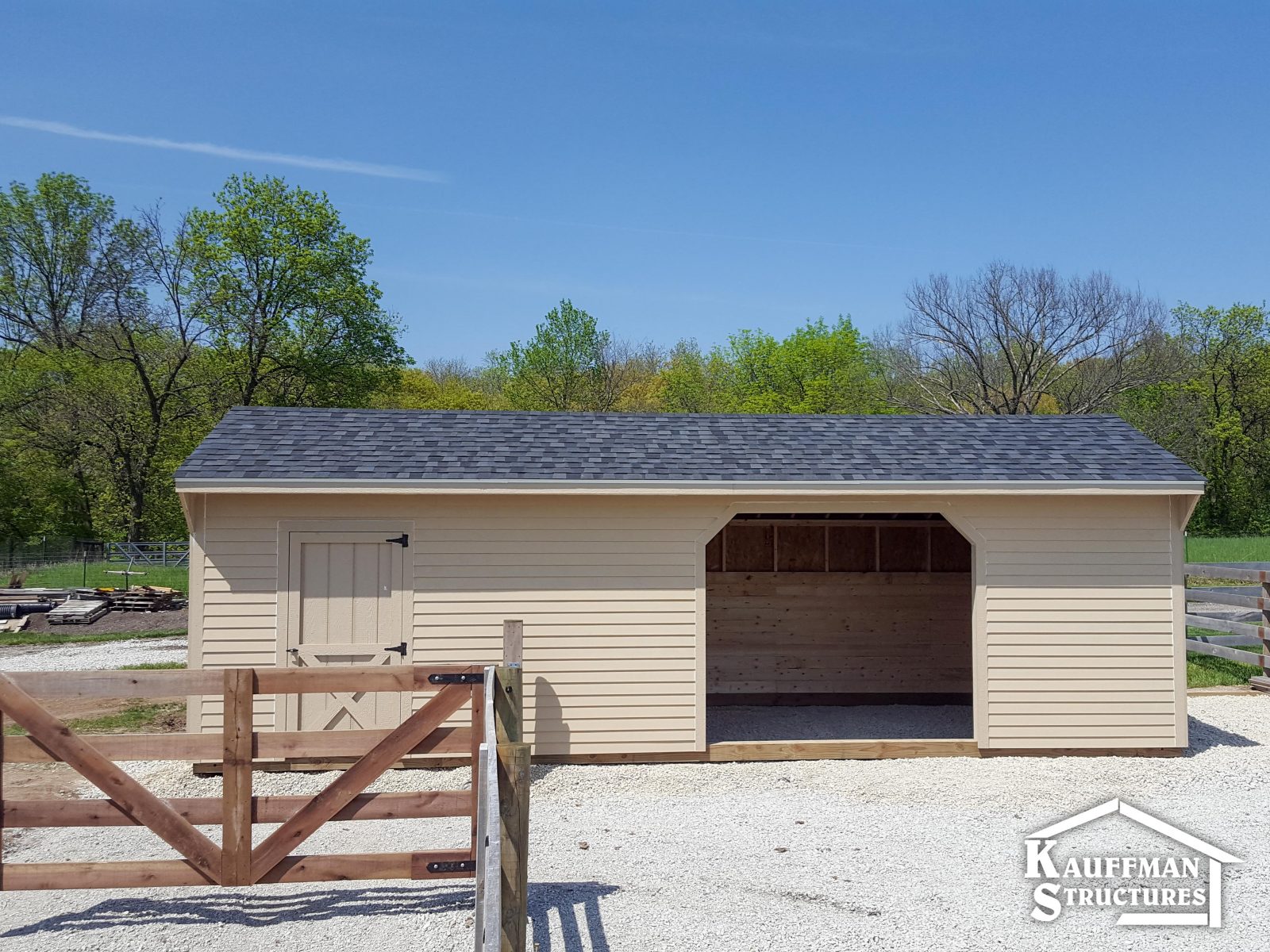 Loafing Sheds in Ottumwa Iowa
Do you currently have any livestock? Protecting your livestock from harsh weather is an important piece to caring for your livestock. Our loafing sheds for sale can provide great shelter and protection for your livestock, especially during rainy, snowy, and windy weather. Animal shelters can also be used for you to store any items you may need to help you care for your animals. Loafing sheds can help your animals stay out longer while providing them the convenience of obtaining shelter if needed. Our loafing sheds come in a variety of styles and sizes to accommodate your animal storage needs. Check out our animal loafing sheds today to see what fits your needs best.
We offer a variety of storage sheds in Ottumwa Iowa to meet your storage needs. Even better, we deliver for free within a 50-mile radius of our shed lot locations. You do not have to worry about the delivery process. Be sure to check out what others have said about us.
Kauffman Structures Testimonials
"We enjoyed each part of the process of getting a new garden shed for our backyard. Curtis was easy to work with, provided helpful suggestions, and supported the needed flexibility in the project. Delivery and install was super quick and easy, and we love our new shed. Thank you!
-Sarah O.
"the shed is more than I expected looks great perfect color match to the house. best personal service I've ever had. I could not be happier with my purchase of the 12×20 cottage thanks again Curtis"
-Allen C.
"We are thrilled with our new shed. We needed a custom, well built shed for storage of household items. I am very impressed with the quality of this Kauffman Structure. And Curtis was able to place it within a fraction of an inch of where we needed it. Nice people to work with. I highly recommend them."
–Wallace S.
WE DELIVER SHEDS FOR SALE IN OTTUMWA, IOWA
We offer a variety of storage sheds to meet your needs. Whether you need a shed to store outdoor equipment or need a shed to provide shelter for your livestock, or even consider a playhouse shed for kids to let their imagination run wild, we can offer a wide range of sheds to meet your needs. Be sure to see our gallery below that showcases just a small few of our sheds. We offer sheds for sale local to you in Ottumwa, Iowa.
How Can I Get My Own Shed in Ottumwa Iowa?

1. PRIORITIZE
Identify what you'd like your shed to do for you.
What do you want to store?
How do you want to access it?
What kind of "look" do you want?
Think carefully about your objectives before you purchase your building.
2. PURCHASE
Review your options and make your choice.
To choose your shed, consider which size and style will best fit your needs, as well as how each style will fit into your location.
When you're ready to order, first choose your colors, then any add-on options.
Send us a security deposit to place your order. You can choose either a cash sale, or a convenient rent to own contract.

3. PREPARE
Get ready to land a beautiful backyard.
We recommend a gravel base to set the shed on. If this is not a good option for you, we are happy to offer you some more ideas and options.
Look for any low hanging wires or tree branches that will be in the way of getting the shed to the desired location.
We encourage you to do any necessary tree trimming prior to delivery of your structure.
Directions From Ottumwa, Iowa to our Shop in Weldon, Iowa
We are located in Weldon, Iowa. Below are directions for getting to our location.
Hours:
Mon – Fri: 9am – 5pm
Saturday: By Appt.
Sunday: Closed
Head southwest on S Jefferson St toward E Main St and turn right.
Use the middle lane to take the ramp onto US-34 W/US-63 BUS N
Turn left onto US-65 S/Division Rd.
Continue to follow US-65 S.
Then turn right
Turn right onto Co Rd J22
Arrive at Kauffman Structures