The Cottage Wood Shed
One small shed for man. One giant leap in shedkind.
Are you longing for a beautiful wood storage shed? Do you need the extra space, but you haven't been able to find the kind of structure that can give you that function and look good enough at the same time to satisfy yourself and your neighbors. Do you simply need to get your garage cleaned out?
12'x14′ Cottage Shed Design
Check out this incredible 12×14 Cottage shed design. Save time by starting with this preset shed design, customize it, or leave it as is, and get your free quote today.
This building includes the following:
One 60″ double wooden front door
One Vent
(2) 18×36 slide windows (one on either side)
6′ interior loft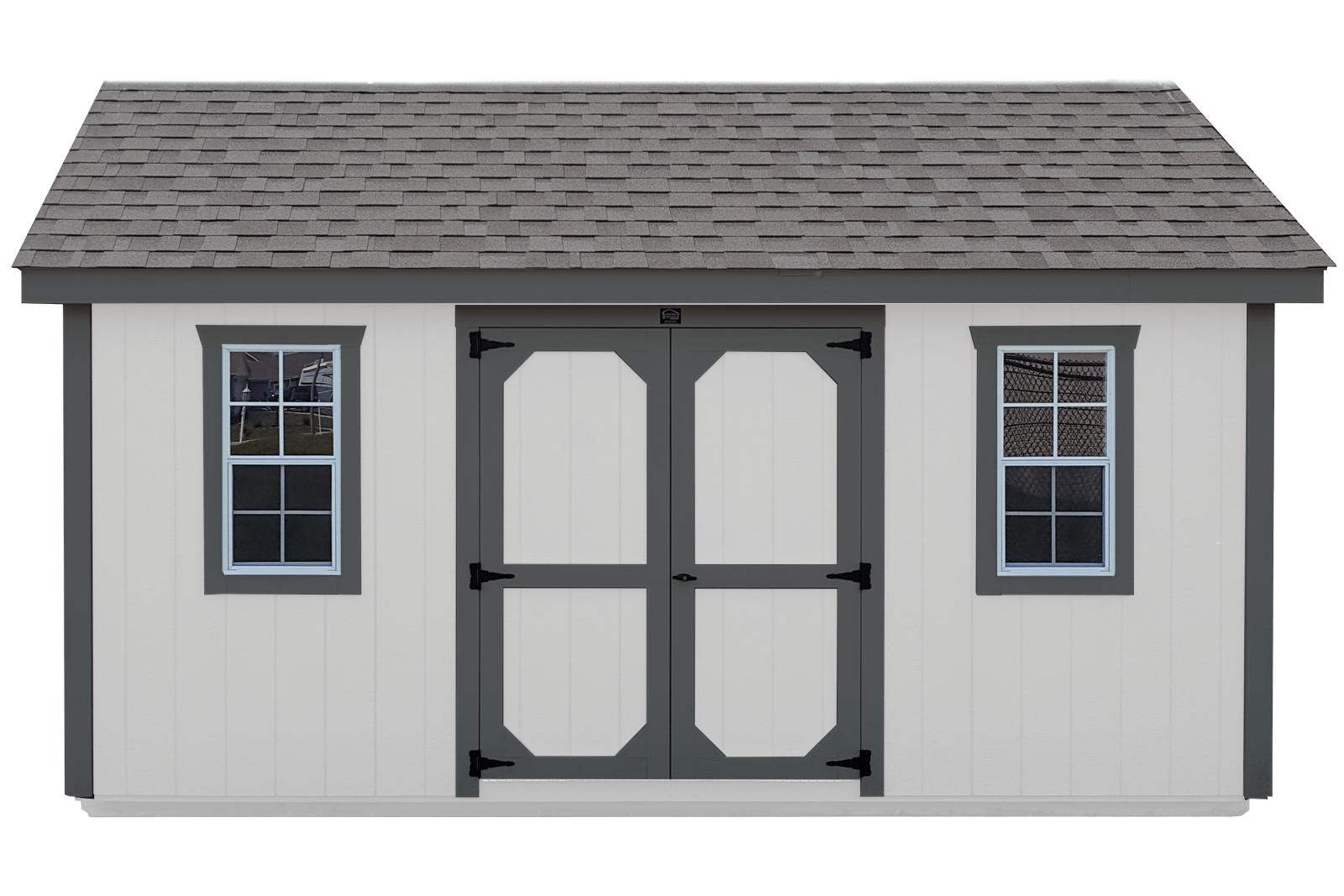 What is the Cottage Wood Shed?
The cottage shed is our favorite and premium model here at Kauffman Structures. It continues the tradition of superior quality and function while giving extra attention to design features that make it an extra good-looking wood shed.
When we designed the cottage shed, our end goal was something more than just a storage shed. We focused in on things like a steeper roof pitch, larger overhangs, wider trim, and larger windows, all to give a look that sets it apart from the rest.
Cottage Wood Shed Gallery
Check out photos of cottage wood sheds we have built and delivered to our customers. Each wood shed is designed and built specifically to our customer's specifications. Brainstorm ideas as to how you want your wood shed to look.
What are the features of the Cottage Shed?

The Cottage Prefab Wood Shed comes standard with 5' double doors on the side and an 18×36 window on each side of the door, letting in lots of natural light.

The steeper roof is more like that of many of your modern homes, helping it to blend well with your landscape, and avoiding looking like an ordinary storage utility shed. Larger overhangs and wider trims at the roofline make a nice design statement, allowing it to look more like your house, and not your neighbor's barn.

An 18×36 window on each side of the 5′ double door comes standard on the Cottage Prefab Wood Shed. There are additional options for more windows and window sizes.

The many different features of the Cottage Wood Shed and the endless options you can add to it, make up an aesthetically appealing shed that is a perfect conversation starter with your neighbors.
How can I get my own Cottage Shed?

1. PRIORITIZE
Identify what you'd like your shed to do for you.
What do you want to store?
How do you want to access it?
What kind of "look" do you want?
Think carefully about your objectives before you purchase your building.
2. PURCHASE
Review your options and make your choice.
To choose your shed, consider which size and style will best fit your needs, as well as how each style will fit into your location.
When you're ready to order, first choose your colors, then any add-on options.
Send us a security deposit to place your order. You can choose either a cash sale, or a convenient rent to own contract.

3. PREPARE
Get ready to land a beautiful backyard.
We recommend a gravel base to set the shed on. If this is not a good option for you, we are happy to offer you some more ideas and options.
Look for any low hanging wires or tree branches that will be in the way of getting the shed to the desired location.
We encourage you to do any necessary tree trimming prior to delivery of your structure.
In-Stock Cottage Wood Sheds for Sale