Reviews
If your Kauffman Structure has made a difference in your life, bringing space, organization, and beauty; we would love to have you share that with us and others. What changed your life whether it is a storage shed, livestock shelters, portable garages, cabins, or outdoor playhouses?
Sure, we have mouths to feed and money to make here at Kauffman Structures, but our bottom line is your success and satisfaction and we would like to offer that to as many folks as possible.
"I Feel So Liberated!"
When Linda C. bought a shed, she was buying more than a structure, she was fueling her passions. Learn how her shed from Kauffman Structures made a difference in her life.
Horses have a sturdy, safe structure to shelter from the Iowa weather
Curtis made the purchase of our horse shelter so easy! He worked with us and made the customizations we needed, as well as coordinating the build and delivery around our schedule as we were in the process of moving. Our little barn was built, delivered, and installed exactly as promised. Everyone who sees it comments on how well-built it is compared to other companies. Our horses have a sturdy, safe structure to shelter from the Iowa weather, and I can keep their grain, a couple of days' worth of hay, and my tack and supplies in the larger, customized tack room we selected. It was easy to install electrical and a wireless camera in the building as well. We couldn't be happier and highly recommend Kauffman Structures.
Beth Kingdon
Love our new shed!
We enjoyed each part of the process of getting a new garden shed for our backyard. Curtis was easy to work with, provided helpful suggestions, and supported the needed flexibility in the project. Delivery and install was super quick and easy, and we love our new shed. Thank you!
Sarah Olsem
Awesome !
the shed is more than I expected looks great perfect color match to the house . best personal service I've ever had . I could not be happier with my purchase of the 12×20 cottage thanks again curtis .
Allen chesser
Perfect Combo – Great Quality and Great Service
We love our 12×16 shed. High quality, excellent workmanship, and it works perfect for our needs, storing gardening supplies while looking sharp in our backyard. Many of the neighbors have commented on how nice it looks.
Additionally, it has proven to be "derecho-proof". While other sheds in the area were destroyed when 80-100 mph winds blasted through our town, the only impact to our shed was that it moved about a foot on the pad. We had no way to move it back, but Curtis was kind enough to come out and move it back into place and level it out after the gravel base was disrupted. Looks same as before. We greatly appreciated the service and would highly recommend Kaufmann to anyone buying a shed.
Rick Beam
Great Quality Custom Shed for Us
We are thrilled with our new shed. We needed a custom, well built shed for storage of household items. I am very impressed with the quality of this Kauffman Structure. And Curtis was able to place it within a fraction of an inch of where we needed it. Nice people to work with. I highly recommend them.
Wallace Shea
Thank you for building such a sound structure for us!
We bought our storage shed about 9 years ago and love it and have used for a lot of different uses over the years. We have since moved and plan on having our Kauffman Storage Shed moved to our new location. With it being such a sound and reliable structure I can NOT leave it behind! The 10ft. by 20ft. storage space has been wonderful to use and I plan to keep using the same shed. Thank you for building such a sound structure for us! When I need another shed I will be ordering from here again!
Michael
An Excellent Experience
We recently purchased a 14 x 28 Portable Garage from Kauffman Structures. The workmanship and appearance was excellent. The buying process was very smooth. Curtis answered all of our questions and was a pleasure to do business with. I especially want to recognize the delivery service. The portable garage was delivered exactly at the committed date and time. It was set into place in a very short time, with meticulous attention to detail. Everything about the process of buying and delivery was excellent!
Dave Eaton
Keith and Jan
We have been totally satisfied with our shed! We appreciated your feedback on how to build the foundation. We have had many comments from neighbors about how nice the shed looks. We have been totally happy with the quality of the building. The delivery of the shed went smoothly. We would highly recommend your business!
Keith and Jan
Great barn from a great company
Curtis was excellent to work with! We got a great barn at a great price. He made the installation seem easy even though I thought they would have a very difficult time getting the barn to the designated location. I was very impressed with the entire process and would recommend Kauffman Structures to friends and family! Great job Curtis!!
Mark Trom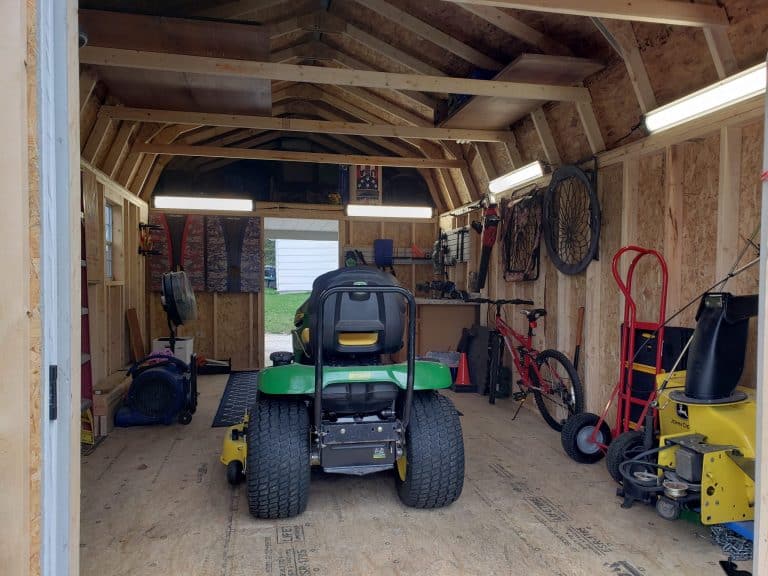 I cannot express how happy we are with our Kauffman shed. Was easy to work with Curtis and the delivery could not have went any smoother. We spend a lot of time in it….it is not just a storage shed to us. My grandkids play in it and the oldest has a small shop area for his hobbies. The craftsmanship and detail make it well worth the money.
TJ Studyvin
I recommend Kauffman Structures to everyone.
You were very easy to communicate with and business was a short drive away. There was a huge selection to look through on your lot and I think that's extremely helpful on deciding what to get. You also had color samples and price charts.
Our first shed was easy to rent to own. We quickly filled it up and decided to go with the biggest size you offered. It made it easier to do that also because we were able to trade in our first one. The delivery and pick up was great too. Hassle free.
I recommend Kauffman Structures to everyone. I'm extremely happy with my purchase and extra space it has given me.
Jacob South
Very pleased
We purchased a 12 x 28 Barn Building it was nice that it came in at the price that was quoted and delivered on the day that was said to be. It was a pleasure doing business with this company we are more than pleased. Thank you very much appreciate it
Mark & Lois Legg
Love My Cabin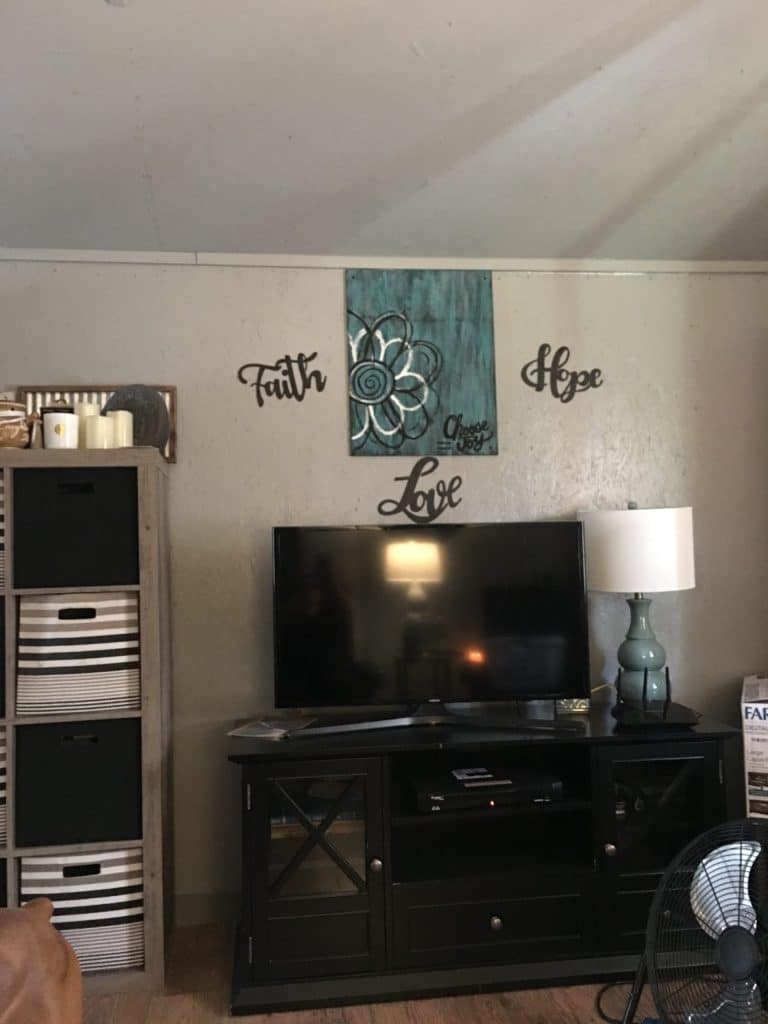 Great people to deal with! I'm over a year in my cabin, and I love it!!! Very well insulated. I use a window air in the summer and an infra red heater in the winter. Thank you so much for helping me decide on extra features! Well worth the money!!!
Sue Thomas
Repeat Customer
We really like our first shed from Kauffman Structures! It is still looking great. More recently we've been needing a tack shed for the horses, and have been shopping around but nothing compared to a Kauffman Structures shed. Thank you for a quality product.
A nice experience
We recently purchased a 10x16ft Carriage style storage shed from Kauffman Structures located in Weldon, IA. The quality and the craftsmanship of the unit purchased was excellent. The shed was delivered at the stated date and time and set into place in less than an hour. Curtis answered all of our questions before hand and was a pleasure to do business with. A nice experience this day and age where most just seem to want your money only.
You guys set the bar on the market!
Thank you so much! We are very happy with our shed. The quality is outstanding and the customer service Kauffman Structures provided us with was top notch. We recommend Kauffman Structures to all of our friends and family looking to purchase a shed. Love the shed. Real craftsmanship and quality material. You guys set the bar on the market. Summer 2014
A perfect job
Curtis just left after delivering and installing my beautiful 10×12 shed. It is so beautiful I told him I wanted to wallpaper the inside instead of filling it with lawn stuff!! I was amazed watching the process to unload and stabilize the building. It was a perfect job. Thank you.
Judy Reha
Great to work with!
Curtis and Kauffman Structures were great to work with! Their craftsmanship and customer service is second to none. Absolutely love our 12×16 Gable shed. Thanks guys.
Very Happy Customer
I have bought 2 sheds from Kauffman's and I couldn't be happier, The first shed was a storage shed for over flow from moving into a house with less storage. It is the best built shed I have been in. we are on our second year with it and there are no issues what so ever. The second shed was built to be a chicken coop with a little storage for gardening stuff on the back side. I can't say enough about how great these folks are to work with, best of all, the take great pride in their products, which is something rare today. They will get my business and my referrals from here out. If you need a shed call them now.
Laird V.
Smiles all around!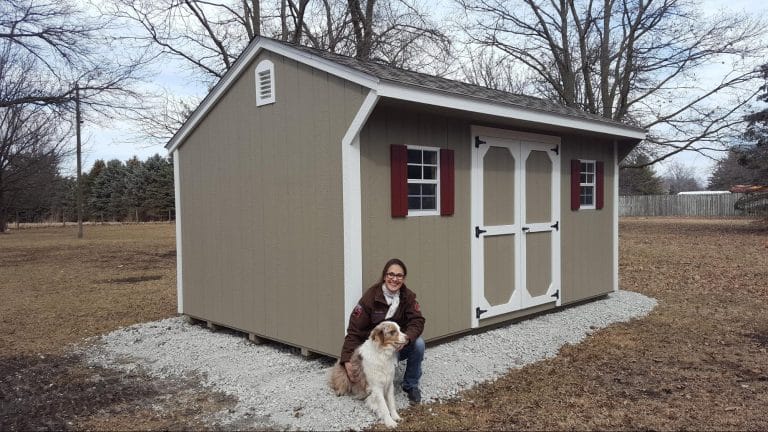 The happy faces say it all.
Kelly
Good quality is so hard to find these days.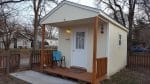 Wanted to tell you how much we are enjoying our "little house." I love to see it in the yard. It's just beautiful. My brother is absolutely in love with it. I sure wish I could hire you to construct me an outdoor pre-release cage for my wildlife rehabilitation. If you're for hire let me know. Good quality is so hard to find these days.
Tammy Woodworth
My buying experience was top notch.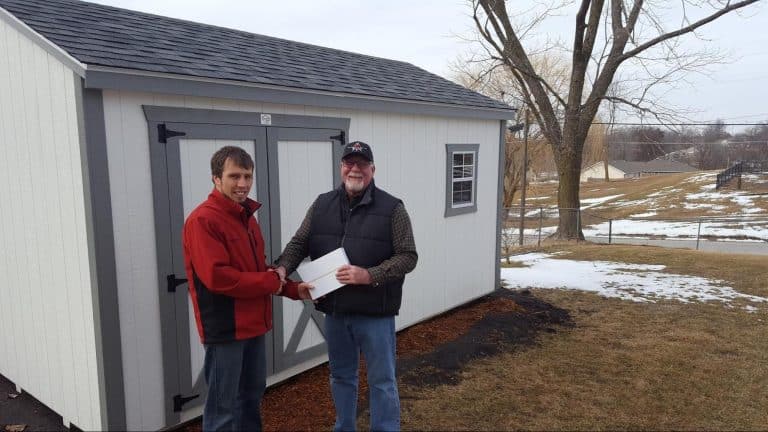 With my new Kauffman shed I've been able to regain the use of my garage. The Gable shed was a very practical shed that fit my needs well. I looked at a lot of other sheds and the shed from Kauffmans was just a very well built shed. My buying experience was top notch, just like a person would like it to be.
Bill Ogbourne
Thumbs up!
The face and gestures say it all!
Connie Thompson
Very Impressed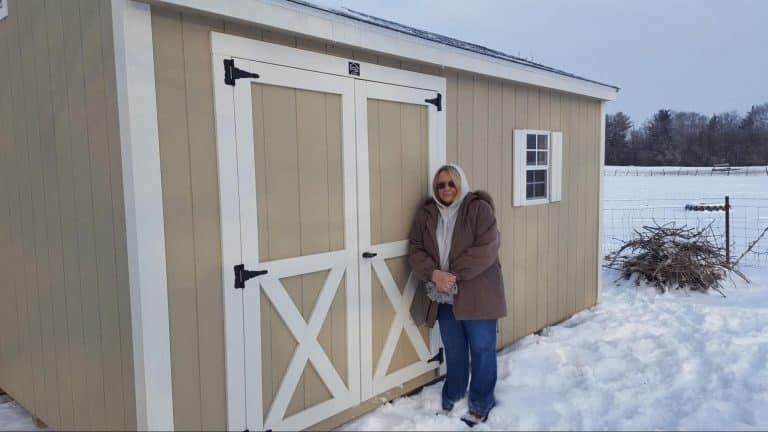 Curtis delivered my shed today. I bought this shed through the web site by looking at a picture of the outside. I had no idea what it looked like inside and only seen two sides of the outside. I was so impressed when I got to look at it in person. It was a used one and it looked like new inside and out. If you are looking for a good quality shed then contact Kauffman Structures. They have the best customer service and delivery. I give them a 5 star rating. Thanks Curtis for all your help.
Debi