Why You Should Buy a 10×12 Shed – Reasons & Helpful Info
The Why of a 10×12 Shed – Answered
---
A 10×12 shed is one of the most popular shed sizes. Why? Well, an 10×12 shed offers the following:
Perfect- sized shed (provides a decent-sized shed that does not take up the whole backyard).
Encourages a more minimalistic approach to storage (while still fitting A LOT of items inside)
Fits well into almost any backyard – Especially nice for urban backyards.
Since it is a smaller sized shed, its price tag is more budget friendly.
In most states a 10×12 shed does not require a permit (check with your local township just to be certain).
A well-proportioned and attractive structure.
Offers a versatile storage space – While a 10×12 shed is on the smaller side, it offers sufficient space for storage, work, or relaxation. Plus, utilizing shelving, pegs, and the shed's walls increases storage capacity.
Ultimately, a 10×12 shed combines affordability, space, and efficiency into one good-looking shed!
Truth be told, sometimes smaller is better! Any doubts? Check out, Why a Smaller Shed Is Better.
Next, let's discuss the ways you can use a 10×12 storage shed.
What are the Uses of a 10×12 Shed?
There really are no limits when it comes to using the space offered by a 10×12 shed. However, hobbies' that are large scale or growing home businesses may wish for a larger-sized shed.
Here are some of the common uses for a 10×12 shed.
Tool Storage
Enjoy finally having a place for all your tools and power tools. Plus, if you add a workbench, you got yourself a complete package!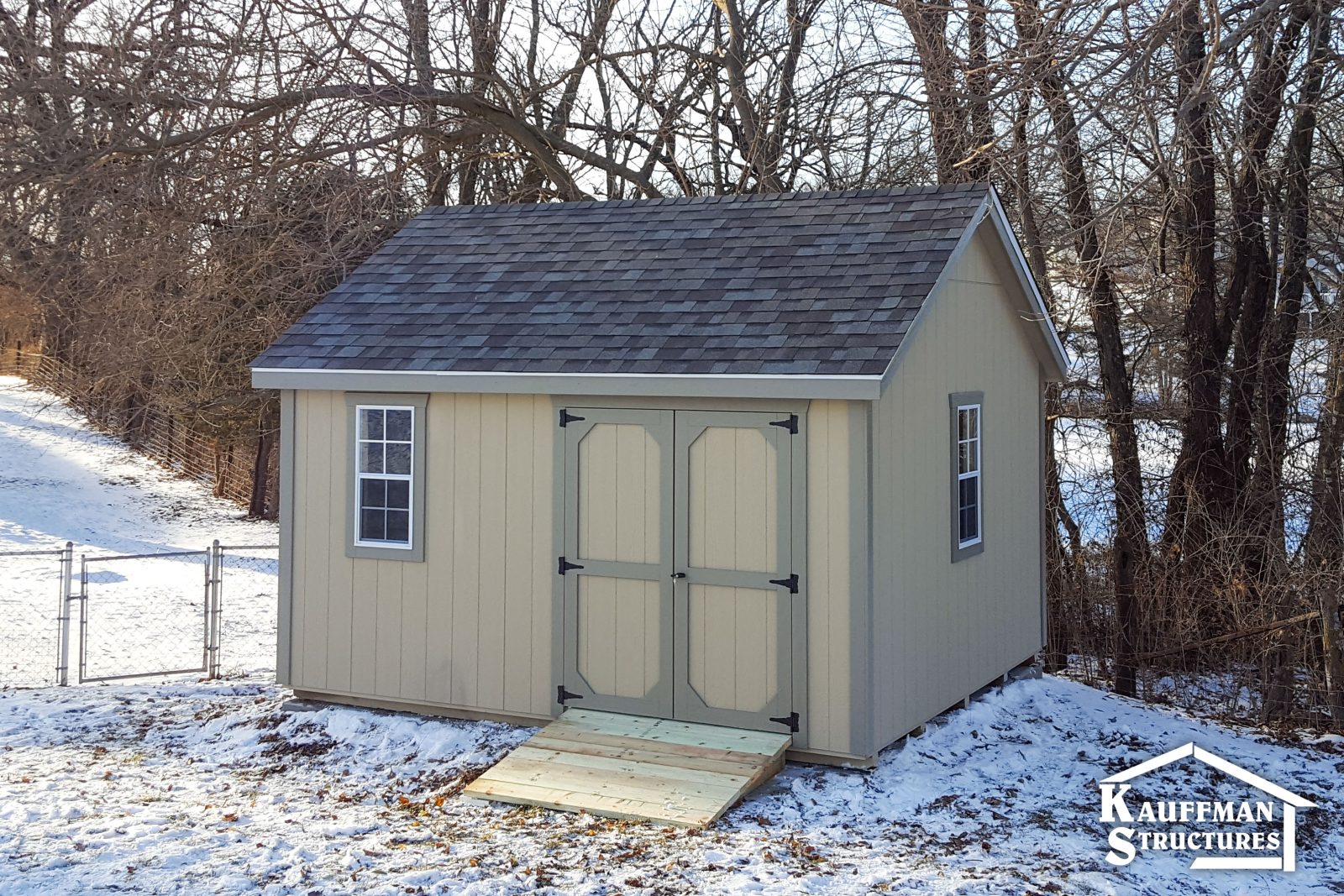 Garden Equipment Storage
Lawn mowers, rakes, shovels, wheelbarrows, weed eaters, and all the essential lawn care items fit like a pansy in early spring soil inside a 10×12 shed.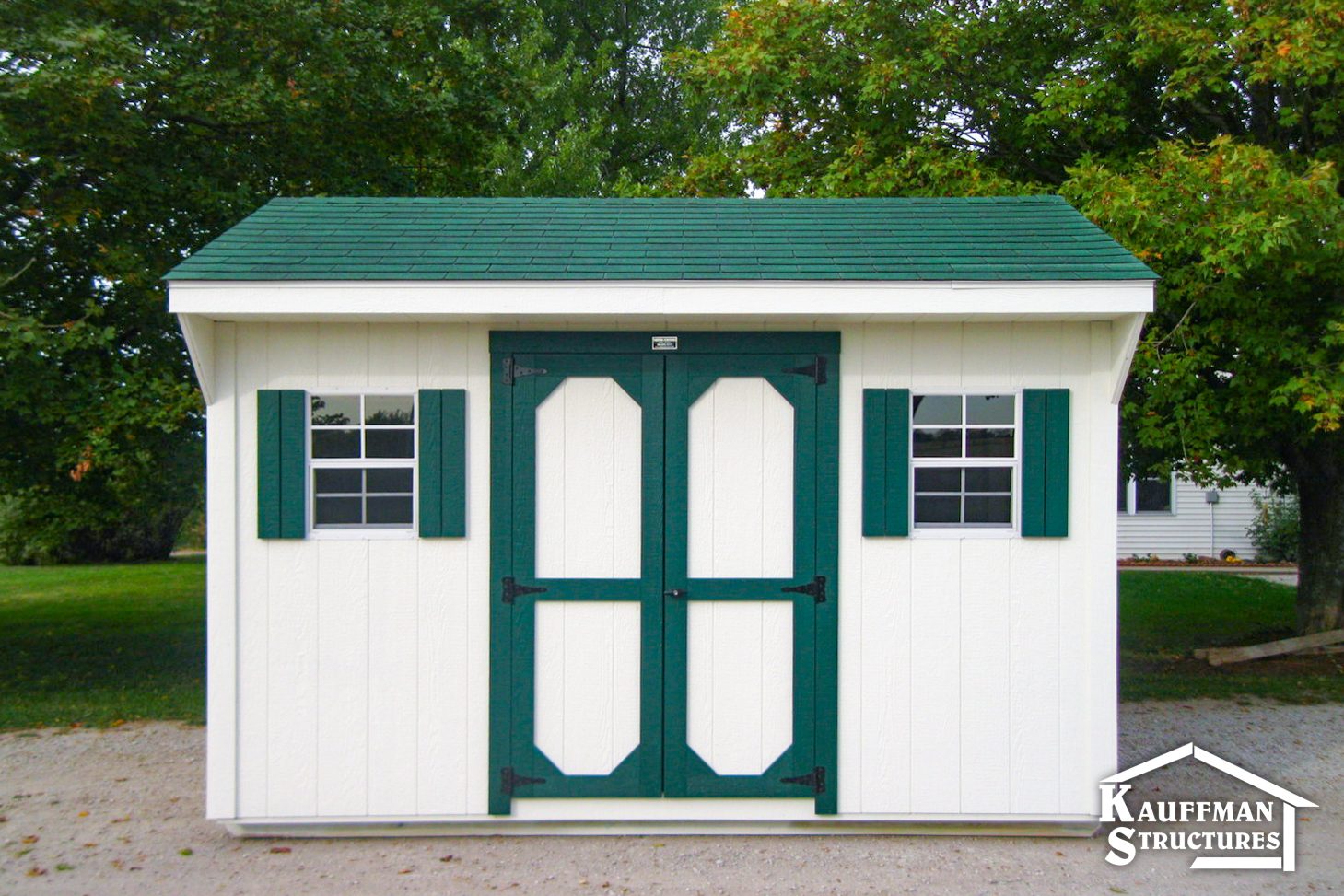 Basic Storage
Those surplus items like bins of seasonal decorations, boxes of keepsakes, and even furniture can be stored safely and securely under a lock and key.
Home office
Enjoy having a space where you can finally work undistracted! Nothing feeds productivity better than a focused space.
She shed
Create a haven of rest and creativity inviting only the things that make for your favorite environment. Get some inspiration here!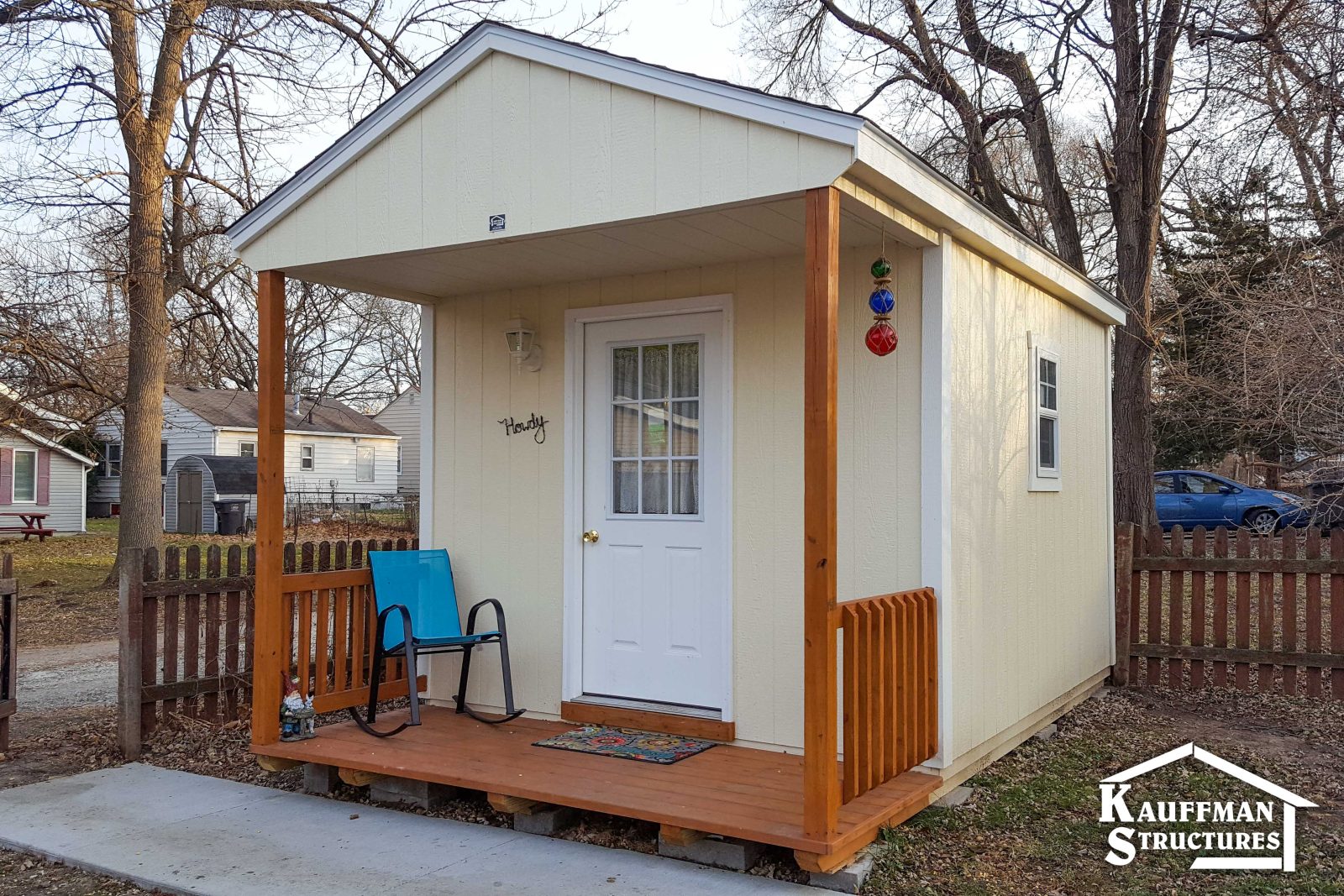 Mancave
Set up a manly, chill, or rustic space to hang out with your family, by yourself, or with your buddies!
Tiny Cabin
Potting Shed
Fill a potting shed with your favorite plants, seeds, and get ready to pot to your heart's content!
Pool House
Adding a pool house beside your pool gives you a changing room, a drink station, a lounge to chill at after swimming! Here is a pool shed around the same size as a 10×12 shed.
How Big is a 10×12 Shed?
A 10×12 shed offers precisely 120 square feet of interior space.
This sized shed would be considered a medium-sized smaller shed as the "small shed" range is anywhere from 8×8 – 12×16.
Check out these videos to see what the inside of a 10×12 shed looks like as well as to visualize its available amount of space.
---
What Can Fit in a 10×12 Shed
It really depends upon the purpose of your 10×12 shed. However, a typical garden 10×12 shed could easily fit a riding lawnmower, a push mower, a wheelbarrow, and even a few bikes. Plus, plenty of space for shelves, pegboards, and hanging items from the walls.
⬅️ Check out this tour of what can fit inside a 10×12 shed.
Spacing TIP: To ensure that a 10×12 shed is indeed the right size for your specific purpose, take a tape measurer and stake out the exact feet in the precise backyard location awaiting the shed's arrival.
This action will help you determine if everything you wish to fit inside your shed will indeed fit.
Popular Shed Styles for a 10×12 Shed
The following shed styles are popular options for a 10×12 shed.
The Gable Utility Shed
Classic. Popular. Simple. If you are looking for a tried-and-true style for your 10×12 shed, the Gable is where it is at!
Often considered modern in appearance, the Gable Utility Shed provides a sturdy and attractive space for tool storage, a home office, or pool house.
---
---
The Carriage Shed
Do you wish for a unique looking 10×12 shed? If so, the Carriage, also known as the Saltbox, style will not disappoint. With its slanted roof and darling overhang, this shed delivers the most standout look and addition to your property.
This style of shed does well as a home office, basic storage, or potting shed.
---
The Cottage Storage Shed
Charming and lovely, the Cottage style offers you the one of the most beautiful shed style options.
With its steeper roof offering extra interior headspace and its clean lines and darling two windows, this style is the favorite for she sheds, man caves, painting studios, and more!
---
---
The High Barn Shed
Are you looking for the style with the most space? If so, the High Barn is your match! Thanks to its attractive gambrel style roof, the High Barn offers great interior space, especially headspace.
If you wish for a loft, this style accommodates this helpful addition the best! Enjoy turning this charming barn-like shed into a mancave, tiny cabin, or workshop!
---
Conclusion
Hopefully the above helped you in confirming whether a 10×12 building is right for you or not.
If you are from Iowa, Northern Missouri, or Eastern Nebraska, and are currently on the hunt for a 10×12 storage shed of your own, check out our sheds at Kauffman Structures.
Otherwise, google local shed builders near me, and do a bit of investigating to ensure you are working with a reputable company.
Best of wishes and remember, your space is worth it!