Why a Smaller Shed is Better
"Go big or go home…" This saying often guides our decisions, not just in shooting for the stars in success, but life details, like food choices, gifts, houses, cars, sheds, and the list goes on. In this blog, the spotlight is on small sheds, and on this note might it be suggested that not everything is better bigger. In fact, in some cases it might be better to go home than to stick with the "big" offered you. Big has benefits, but let this blog affirm your hunch that small may be better when it comes to your choice of a storage shed. As Michael Shaw quotes, "It's a little smaller, but utilizes space much better." At Kauffman Structures our advice is solid and backed with years of experience in the shed marketing business. We would suggest that indeed, smaller is better.
Small Sheds are Better!
Nowadays, the shed industry is pushing towards larger and larger sheds. They have been swept up in the "supersize me" mentality of our culture. We recognize and appreciate the need for large sheds for specific shed needs, but this mentality is being pushed beyond large shed needs. People who have basic storage needs are being wooed into purchasing expensive, oversized sheds. And often all their needs would be fulfilled in a medium or small-sized, economical shed.
Here are 4 Reasons Why Small Sheds are Better!
1. Small Shed's Aesthetic Value
Small sheds exude beauty and elegant simplicity. A well designed and manufactured small shed stands out in a backyard because simple is beautiful and efficient. Whereas a large shed may appear bulky and oversized in a backyard. Small sheds showcase the beauty of simplicity, not just in appearance but in its ability to remind us of truths that are clouded by society. Allow world-famous comedian, Jim Carey, to shed some light on the beauty of simplicity, as quoted saying, "I wish everyone could be rich and famous, so they'd realize that those things don't make you happy."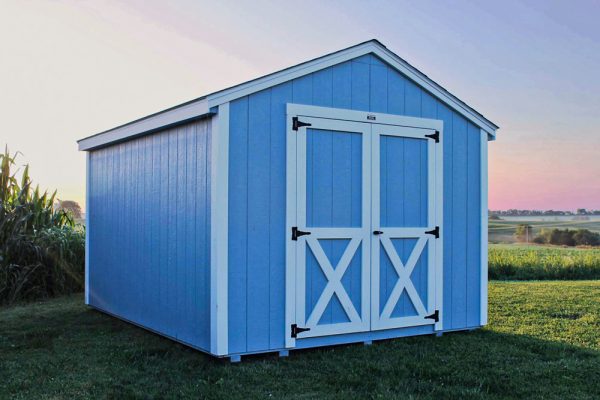 2. Small Shed's Minimalizing Lifestyle
As we break the dawn of a new decade, a "new", freeing reality is being realized and appreciated in consumer hungry America. The reality is that less is better and that Minimalization of our lives isn't constricting, but instead liberating! We are recognizing the fact that having more (of anything) doesn't make one happier. The opposite (having less) is being acknowledged for containing the power to not only set people financially free, but also free their spirits from the burden and trap of consumerism. Let's be honest, that in our pursuit of happiness, having more only generates a desire for more, and at the end of the day, we aren't content (true happiness). This soon becomes a vicious cycle that leaves us slaves to our material items and in debt. Josh, from the Minimalists said it well, "We are buying things we don't need, with money we don't have, to impress people we don't know." A small shed encourages us to prioritize what is most important and resist the urge to buy more things.
Photo Credit: pinterest.com
3. Small Shed's Promote Organization – Stability and Control of Life
You probably have seen pictures of small sheds stuffed to breaking point with disorganized and random items. Perhaps these pictures have left a bad taste in your mouth for small sheds because you associate small sheds with disorganization and chaos. May I suggest that it is not the small shed's problem. The problem is the clutter. The solution isn't to get a bigger shed. Inevitably that will also fill with more stuff. The solution is to get rid of the extra items and gadgets. No one likes to feel out of control. According to David Sawyer, author of RESET, " Clutter overloads your senses and adds to your stress levels." A small shed can bring stability and control of your life by encouraging you to clean out the clutter and organize what is essential for your daily needs. In short, you can get control of your life by organization, and a small shed can help you do it!
4. Small Sheds Fit Anywhere!
A huge benefit of small sheds is their ability to fit anywhere! Smalls sheds are urban-friendly. They can fit in a small backyard and contribute to the space instead of taking away from it. Especially nowadays, with a growing population of entrepreneurs and work from home jobs, a small shed in your urban backyard makes for a nice home office or efficient storage unit.
What is Considered "A Small Shed"?
Note: Always take into consideration your backyard space to determine which one of these measurements best suit your shed needs. We consider an ideal small shed to fall into these measurements- 10×12-12×16.
Organizational Options for Small Sheds
We aren't just going to throw the benefits of a small shed at you and then leave you high and dry without practical ways to organize and utilize your space. Here are our best organizational options for making every inch of your space worth it.
Loft – A small shed can utilize its space by adding a loft. This idea is especially ideal for the Barn Shed because of the Barn's high ceilings. With a loft you can separate your less frequently used items from the ones you use on a regular basis. This organizational tip can help you from tripping over your winter skis during the dead of summer while searching for your fishing rods. Designating items to specific places for different usage levels is a key to optimal organization.
Shelving – Shelves offer a great way to use your small shed's walls efficiently. You can use shelves in your small shed for storing containers of assorted items, books, tools, etc. You can designate certain shelves for specific or related items. For example, if you are using your small shed for miscellaneous items, then your north wall could shelf all your tools, your east wall could shelf decorations, your west wall could shelf potting supplies…If you are using your shed for a work space then your shelfs can hold books, binders, computer equipment etc.
Workbench Options – A workbench is perfect especially if you plan to use your shed for a specific purpose. A small shed with a workbench offers a spot for specific items you would use on a routine basis, such a spot for painting, potting, computer equipment, and whatever you might wish.
Reminder: Keep in mind that these organization options are offered to cultivate order, stability, and control of your small shed and its environment.
Small Storage Shed Ideas
Often when we think of the word "storage", a range of mental pictures come to mind. Maybe the word "storage" brings a grimace to your face as you picture the clutter or confined spaces that leave you feeling uneasy. Take a deep breath, and let's rethink the word. Your experience with small storage sheds can be pleasant, orderly, and enjoyable. Storage space should bring a smile to your face instead of a frown. Your space is worth it, and you don't have to "go big or go home" with your space. Start with something small and transform that space into an enjoyable and organized haven.
Let's look at a list of small storage shed uses and discover 12 ways you can take your storage shed and use it as a small, well-managed space, with no clutter in sight! Exciting possibilities await your small storage shed which will impress you in ways beyond your imagination!
1. Garden Small Storage Sheds
Gardening is an art. And like every artist has space to return their brushes and canvases, every gardener needs a home base where they can store their tools. A small storage shed provides the perfect space for you to organize your essential tools and also offers a quiet location to design flowers or small shrub pots. Gardeners can usher in the great outdoor experience by turning their small storage shed into a "Garden of Eden" home base.
Discover more ways to organize and enjoy your small garden shed by reading this helpful blog Outdoor Shed Organization & Storage Ideas to Help You Declutter.
2. Home Office Small Storage Shed
Many people find it challenging to focus on the task at hand when surrounded by clutter or noise. A small storage shed offers a perfect solution for you if you desire to leave work at work even though you are working on your business from home. After a hard day at work, you can leave your small shed office and its workload in the backyard. Home has never felt more like home, and your family will love their hardworking hero even more!
Discover more ways you can make this a reality by reading 6 Steps to Convert a Storage Shed Into Your Dream Home Office.
3. Sewing Room Small Storage Shed
Boys, girls, men, and women love to sew. Some sew professionally and market their masterpieces. Then some shower their children and grandchildren with cute homemade clothes or hats. Regardless of whether they sew professionally or as a hobby, having a space for sewing is essential. Because sewing takes time, patience, and creativity, a small, designated workspace allows for optimal focus and productivity. A small storage shed will enable you to create an outdoor sewing sanctuary right in your backyard.
4. Art Studio Small Storage Shed
This small storage shed is full of colors, literally! Anyone who enjoys art appreciates beauty and space. Artists thrive on spaces to dream, create, and design. Their painting supplies and canvases need a spot to belong and kept away from little hands or heavy house traffic. A small shed offers a home for any artist who desires creative, breathing space for themselves and their delicate tools.
5. She Shed Small Storage Shed
This beautiful, small she shed calls for an afternoon break from work. Women of all ages need a little space for relaxation, reflection, and a momentary escape from their crazy, hectic lives. Turning your small storage shed into a she shed provides you with a space to step away from the world, take a deep breath, and relax. The endless possibilities for a creative design add to the beautiful adventure of turning your small storage shed into a personal retreat.
6. Treehouse Small Storage Shed
If you want to take your small shed up a few notches, why not create a treehouse! This flattering little shed nestled among the green foliage, couldn't be more refreshing or inviting! This portable shed provides a "cabin in the woods" retreat, but one that is just a few yards away. Whether the treehouse offers a haven for you, your spouse, or your kids, everyone is sure to enjoy this above-average small storage shed.
7. Teen Haven Small Storage Shed
A teen haven shed. Why not? Even the best of parents need a little space at times from their developing adolescent. And sometimes their teens need a little from them. A teen haven shed offers parents and their teens a safe space to go to process life, its changes, and struggles. The transformation of a small storage shed into a spot where teens can invite friends to chill or work on homework can empower them to learn the benefits of having a clean, organized space in which to thrive, relax, and dream.photo credit: HomeSpeciallyPhoto Credit: Fast Cast Rods
8. Small Ice Fishing Shed
For people who live in the northern USA and Canada, ice fishing is a popular hobby. But who wants to sit out in the cold and wind all day? This is where your small shed comes in handy. Designed to be towed onto the lake, these small insulated sheds provide you with the protection you need from the elements. Now you can enjoy your ice fishing trip with warm food, drinks, and a place to rest — all right beside your favorite fishing hole!
9. A Reader's Small Storage Shed
Readers are leaders, as the saying goes. Since reading is an enjoyable activity, why not design a location where you can retreat and get lost in the pages of your book. This small storage shed transformed into a reader's paradise offers a cozy and comfortable environment to travel to distant lands, solve mysteries, and glean new insights. Readers can use this spot for themselves or invite other avid readers to join them in cultivating their love for learning and reading.
10. Men's Workshop Small Storage Shed
Men love to use their hands. They enjoy projects that involve problem-solving, fixing things, and turning them into usable masterpieces. Men find deep satisfaction in their ability to do their work and to do it well. So, whether he is a handyman, a woodsman, or inventor, a man needs his own space to channel his creative ingenuity. A small shed offers a hands-on man his dream workshop. Every man thrives in his element, and having a space for cultivating his craft brings the best out of him.
11. Hosting Small Storage Shed
Hosting is fun, especially if the host or hostess has enough creative space to throw a party. Hosting is an art, and finding new, versatile places to host is part of the fun challenge. An outdoor hosting spot offers your friends and family an opportunity to enjoy delicious food and the beautiful summer evening. When you host, you need space. So, while the weather is beautiful, why not utilize the great outdoors to your advantage? A small storage shed turned into hosting quarters adds a new, fun twist to any hosting adventure.
12. Miscellaneous Small Storage Shed.
As the famous saying goes, "A place for everything and everything in its place." It is so refreshing to have a specific space for various items. Not everyone has a specific hobby or is a full-fledged gardener or handyman. But, everyone needs a particular space to store all those random items like tools, camping gear, bikes, and lawn equipment. Small storage sheds fit the bill for the perfect place to hold all of your miscellaneous items.
Need a small storage shed to get started?
Check out the small storage sheds designed by Kauffman Structures and start dreaming in a new way about your storage space.
Bottom Line Advice
Take your time and find a shed that fits your specific storage needs and your property surrounding it. We believe your shed should complement your landscape instead of sticking out and detracting from it. When you take your time and find a the perfect shed, it will protect you from buying a shed that looks grotesquely out of place in your backyard. Also, a shed is the perfect structure to increase your property value!
At Kauffman Structures, we take pride not only in a shed that meets our customer's specific storage needs, but also one that looks fantastic on their property. Check out our small to medium sized sheds and find the perfect fit for your specific storage needs today!